In honor of the Bowl's 30th anniversary, the Valero Alamo Bowl and PNC Bank proudly awarded 30 grants to 30 dedicated teachers as part of the College Football Playoff Foundation's Extra Yard for Teachers program.
With additional support from Dr. Richard and Jennifer Steffen, KPMG, and Ryan Velasquez, the Valero Alamo Bowl and PNC Bank representatives visited San Antonio campuses to surprise select teachers with their well-deserved awards.
Below is the list of winning teachers:
Taylor Cissell (LEE HS): In just a few short years, Cissell has grown the journalism department from just 10 students to over 35 students. Cissell's energy is infectious, which is easily seen from her students' enthusiasm to increase the scope of covering all of the meaningful stories LEE has to offer. With the growth of her department, Cissell could use more resources to support the influx of students. Cissell intends to use the grant money to repair some cameras and buy plenty more memory cards. "Teaching high school students, memory cards sometimes have a tendency to disappear," said Cissell with a smile.
Angela Leonhardt (Hidden Forest Elementary): Angela Leonhardt of Hidden Forest Elementary School has expanded music lessons to include a multicultural, multiracial component. She first reads a book that has an inclusive story, then she uses her music composition skills to write songs and create music lessons to go along with the book. She even goes the extra yard and shares the lessons throughout NEISD to help other teachers. The students love it and learn valuable lessons. Leonhardt plans to use the grant money to buy new instruments for her music class, despite her student's requests to use it for a classroom snow-cone machine.
Jason Thibodeaux (Churchill HS): Mr. Thibodeaux is the Orchestra Director at Winston Churchill High School, and does a tremendous job running his program. He is a leader in the San Antonio orchestra community, and he works closely with students and teachers of all grade levels within the Churchill cluster. Mr. Thibodeaux has started a blossoming mariachi program at Churchill, and his students have experienced a wide variety of musical opportunities and successes at the state and local level. Mr. Thibodeaux is a fierce advocate for his program and for his students. He goes above and beyond to ensure they have the tools they need to be successful in orchestra.
Jillian Mason-Moreno (Bradley Middle School): Jillian is the new dance teacher at Bradley Middle School. It's the first year a dance class has existed at Bradley, and the course is already wildly popular thanks to Mason-Moreno. She has rapidly been able to create a fun, safe and motivating classroom environment where students can express themselves. The class brings confidence and joy to every student that walks through her doors. Mason-Moreno makes learning fun, and allows all students at all different levels to find success in learning movement and dance. "I'm living my dream getting to teach dance every day so this is such an honor," said Mason-Moreno.
Walter Pearson (CTEC High School): Walter Pearson of the Career and Technical Education Center teaches the Emergency Medical Technician program. Pearson lives in Marble Falls, Tx, west of Austin, and drives the 80+ miles to and from work each day simply because of his passion for teaching. He incorporates cutting edge teaching resources into the program which enables students to graduate High School as certified EMT's or Firefighter's. Pearson would like to have a full size ambulance simulator in his classroom so that students can practice their skills in as realistic of an environment as possible. He is excited to utilize the grant to go towards this project.
Rebekah Gaona (Escondido Elementary School): Mrs. Gaona, who her students affectionately call "Mrs. G," is one of the most passionate music teachers around San Antonio. "In my class we use any instrument I can get my hands on," said Gaona. She wants to incorporate a music technology program for her students at Escondido Elementary School to create their own music, and is excited to use the grant to help her reach that goal. Gaona likes to give her students a break from direct instruction and give them the opportunity to freely express themselves through music. "A technology center would completely change how my kids grasp the material we learn," said Gaona.
Sheila Gunalda (Hopkins Elementary School): Mrs. Sheila Gunalda of Hopkins Elementary would like to get young children excited about eating healthier by creating a vegetable garden. "I noticed at lunch most kids don't eat their fruits and vegetables," said Gunalda. The goal of her "Little Hawks Pre-K Rainbow Garden" project is to instill healthier eating habits in children as early as possible, as well as help them learn about lifecycles.
The Art Department (Wagner High School): William Delahay, Maria Atrujillo Alba, Ramiro Garcia, and William McDaniel are excited to create a "Thunderbird Pride Mural Project" for their high school art students. The Wagner High School Art Department would like to nurture young artists while enhancing the school's culture, beauty, and identity by way of a large-scale mural. The mural will be student-led and the students will work collaboratively to design a mural that can be a staple of the school hallways for years to come.
Kayla Reyna (Hartman Elementary School): Mrs. Reyna leads a program at Hartman Elementary School called "Knights Safety Patrol." It is composed of mostly 5th grade students, and they work with Mrs. Reyna during the pick-up and drop-off hours to assist the younger students safely get out of their cars and walk to class. Mrs. Reyna plans to use the grant money to get her students bright safety vests, a new hand-held stop sign for the crosswalk, and rain gear.
Kathleen Reid (Memorial High School): Mrs. Reid is a pillar of Edgewood ISD. Reid has won district teacher of the year honors and her students' scores are consistently some of the best. Aside from teaching 11th grade history, Reid can be found at NHS meetings, football games and cheer events. Her dedication to the students of Memorial High is unmatched.
Mark Molina and Karen Cabello (Perales Elementary): The fourth and fifth grade reading teachers work next door to one another, and they make quite the team. Their class reading levels are always among the best in Edgewood ISD, and they plan to use the grant money to purchase more reading materials for their class libraries.
Jessica Kane (LBJ Elementary): Ms. Kane is a teacher at LBJ Elementary. Although it's only her fifth year, she has already won teacher of the year in 2020-2021, and is one of Edgewood ISD's most consistent performers.
Jabari Gibson (Garcia University School): Mr. Gibson teaches 8th grade at Gus Garcia University School. He is a leader on campus and his students have consistently high scores. A CTE teacher, Gibson teaches Principles of Education.
Michael Gonzalez (Legacy Middle School): Mr. Gonzalez is one of East Central ISD's best science teachers. His passion for science and his students make him a valuable asset to the school. Gonzalez likes to incorporate hands-on lab activities into his lessons, so the grant can be used for more innovative technology.
Jennifer Salinas (Salado Elementary): Mrs. Salinas believes in hands-on student instruction and is one of the leading teachers at Salado Elementary School. Salinas has a vision of an interactive campus weather station that can be used for her class and others on campus.
Donna Smallwood (Lackland Elementary): Mrs. Smallwood teaches fifth grade and would like to create kinesthetic projects where students can build and create things.
Nicole James (Stacey Secondary School): Ms. James teaches English at Stacey Secondary, and she has been wanting to create a cozy reading nook for her students to relax and enjoy books.
Guadalupe Pastrano (Stacey Secondary School): Mrs. Pastrano teaches social studies, and she would love to put the students in the hot seat of actual presidential decisions made in history. Creating an environment where students can simulate important decisions in American History would be something that can stay with students for life.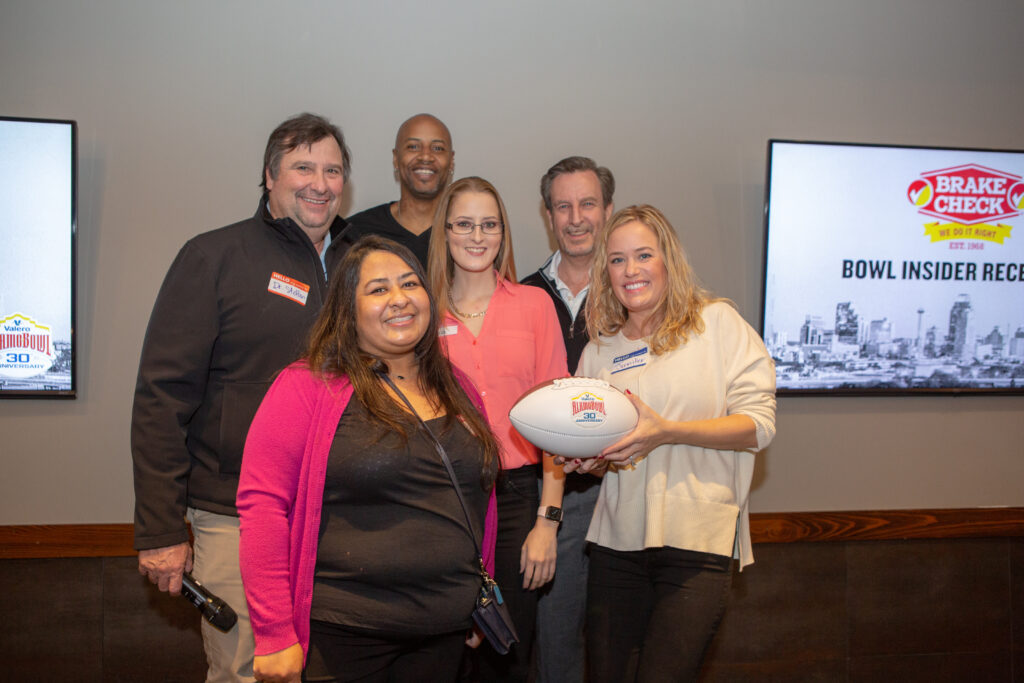 Wendy Taylor (Cole High School): Wendy Taylor teaches English at Cole High School. With their school on a military base, Taylor wants to use the grant money to begin a book club with other teachers to collaboratively study the effects of PTSD and kids in the military community.
Juli Wessies (Fort Sam Houston Elementary): Mrs. Wessies serves as the first grade team leader as well as the head of the mentor/buddy program at the Elementary. She has served military families for many years.
Paul Perea (Fort Sam Houston Elementary): Paul Perea is the music teacher at Fort Sam Houston Elementary School and leads the show choir. In addition to teaching music, Perea is always willing to go the extra yard and help out at school wherever he is needed.
Janeth Renshaw-Montero (Schenk Elementary): Mrs. Renshaw-Moreno serves as the librarian at Schenk Elementary School. She has her campus at the top of the leaderboard for number of minutes read and she added over 100 parents to the list of patrons who can borrow books from the Schenk library. Renshaw-Montero works tirelessly to promote reading and is a dynamic advocate for school libraries.
Roxanne Cantu (Wilson Elementary): I addition to serving as a PE coach, Roxane Cantu volunteered to coach Wilson's 4th and 5th grades FIRST LEGO League robotics team. The team provides an enriching, hands-on opportunity for students to learn about coding, robotics and teamwork!
Gabriela Castaneda (Washington Elementary): Castaneda has been teaching fifth grade at Washington Elementary for five years. This year, she has gone the extra yard and started a robotics team with her class.
Ricardo Cardoza (Lowell Middle School): Mr. Cardoza is on his 7th year of teaching CTE/STEM courses in middle school. He currently teaches at Lowell Middle School and has a robotics and AV club that he would like to continue to grow. Mr. Cardoza's passion for exposing students to STEM opportunities has helped his students become fluent in video editing software and coding.
Sean Bernstein (Poe Middle School): Mr. Bernstein is a CTE teacher at Poe Middle School whose expertise is in Digital Animation and Robotics. He has championed robotics teams from Poe Middle School at robotics competitions and is currently preparing two teams for competition in February of this school year. Mr. Bernstein enjoys coaching his students to perform their best during competitions.
Kyle Black (Southwest Legacy High School): Coach Black teaches Psychology and Government/Economics as well as serving as an Assistant Football Coach and Head Boys Track Coach. Coach Black is also very active in character development programs for Titan Warriors, Autism Awareness and helps out with special needs students. Coach Black has also had the highest test scores on the US History STAAR tests for his campus and was named the Southwest Legacy High School Teacher of the Year in 2021.