Credentials
2020 CREDENTIAL APPLICATIONS OPEN in December.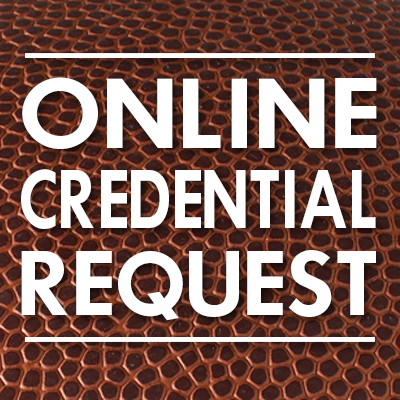 To be considered for credentials, please check back for updates and additional information this fall.
Media Will Call
Credentials will not be mailed. However, individuals may claim all passes issued to his/her media organization.
Pick-up is at the Media Headquarters at the Alamodome during posted Media Headquarters hours. On game day, Will Call will be located at the Alamodome at the East Plaza Entrance (50 yard-line by train tracks) where it will open at 2:30 p.m.. A table will be located inside the East Plaza Entrance with the media elevators also located adjacent to the Will Call table.
Guidelines
Preference will be given to media who cover all the home and away games of participating teams as well as South Texas media who routinely cover events on the Valero Alamo Bowl's year long calendar. Media that cover all the home games of either of the two schools receive the next priority.
As a general rule, if either participating school hasn't credentialed you for multiple games during the regular season, you won't be credentialed for the Valero Alamo Bowl.
Policies
The Valero Alamo Bowl reserves the right to revoke any credential used by individuals not fully accredited, or an individual not in compliance with normal press box and/or sideline standards. Acceptance of credentials constitute agreement by the bearer and his/her media organization to abide by the conditions as prescribed by the Alamo Bowl.
No spouses, dates or children will be allowed in Alamodome media facilities or on the sideline.
"Media" credentials will provide access to the press box and the field pre- and post-game.
"Photo" credentials/vests for sideline photographers will be issued under the following guidelines:
Photo vests/credentials must be worn in plain sight at all times.
Anyone wearing a photo vest/credential and not shooting game action will be required to surrender their credential and leave the facility immediately.
Photographers are permitted on either sideline or end zone behind the 12-foot restraining line around the field, but not within the TEAM BENCH AREA (inside the 25-yard lines) at any time. NO EXCEPTIONS. Persons in violation of this policy will be required to surrender their credential and leave the stadium.
Television stations will be allowed to film from the sidelines during the game. However, the Valero Alamo Bowl's contract with ESPN prohibits the use of game highlights on local newscasts prior to the completion of the game. A distribution amp will also be provided adjacent to ESPN's production truck in the loading dock area of the Alamodome for use by television stations wanting game highlights.
Credentials will not be issued to TV assistants or "grips".
The Valero Alamo Bowl will issue credentials to NFL and professional football scouts on an "as-available" basis. After a capacity number is met, scouts will have to purchase a game ticket.
Get Your Tickets Now
Don't miss your chance to make unforgettable memories at this year's game and ancillary events.
Buy Tickets
Come Visit San Antonio
No city lays out better for major events than San Antonio. Explore everything our city has to offer.
Learn More